hehe... i doubt i can study much within say... 2 days... 2 days left....and i've only finished Science... there's still BM, English, Sejarah, Geografi, Kemahiran Hidup, Sivik and PJPK...(did i left anything out?) and only after 12 LONG days, it'll be over... KYAAA!!!~ and i bet i'll see almost everyone in the class, sticking their eyes to the books... @.@(btw,Huai Jiann will be excluded from that 'everyone'...) yup... exams are scary...
anyway, i found some funny Kateikyoushi Hitman Reborn! omake minutes ago...
(click on the pictures for full view!)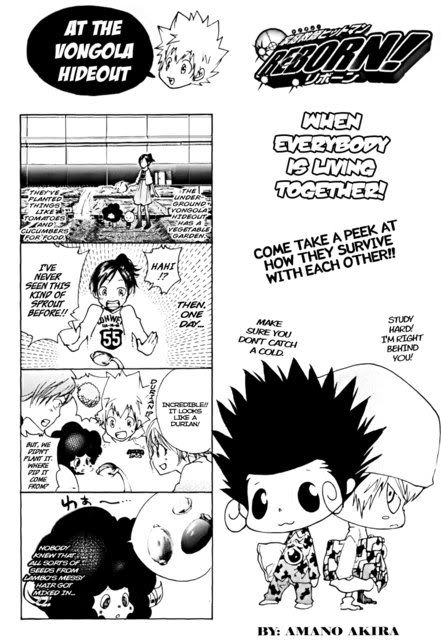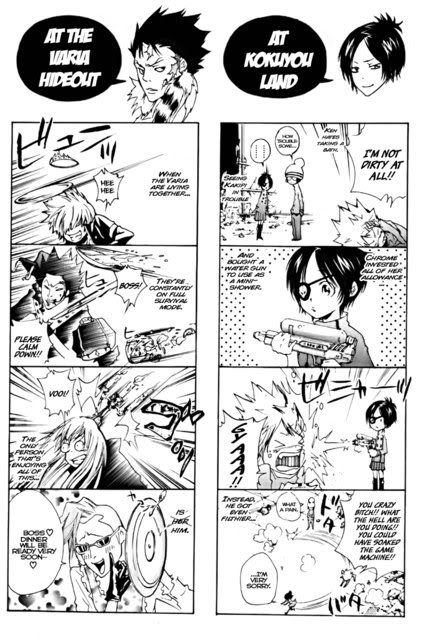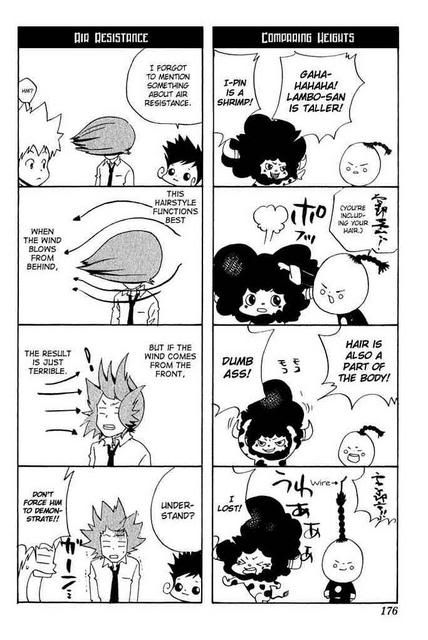 the words may be too small... but i don't know where i can get any larger ones... >.>
P.S. - if anyone understand the 4th omake (the one on Dino and Romario...) do tell me what that means...
----------
some awesome (to the extreme) fan arts i've found so far...
cool! XD
Tsuna and Reborn!

Ryohei (TYL)...

TYL Hibari's bite to death...XD

AND LAST BUT NOT LEAST... YAMAMOTO vs genkishi fanart... XD some of my friends already know that i've been drooling over this outfit of Yamamoto in the battle with Millefiores..KYAA~! damn! so cool!!! Yamamoto ♥!!! i heart you forever!!!
and also, thanks to Amano Akira...


lol... i totally ignored Genkishi...XD



----------
XD and also... i found a nice compilation of the pictures from Ending 9:Suberidai(Slide)...so i think i'll put it as my new header pic...

i found some them on CR... but still, it takes years to load and so i didn't check my notifications at all... >.>
haiz... anyways, i won't be onlining much after this... until exam is over that is... maybe i'll online for a few minutes tomorrow to read the latest chapter of Kateikyoushi Hitman Reborn!♥